We all love pizza, right, and many of us wish that we could eat one for lunch, dinner and even in between the meals. I will make it possible for you. With this delicious and simple veggie pizza, you can eat as many slices you like, and never feel any quilt or being concernd about your health. This pizza is super healthy and simple to make, you can add the toppings you prefer, I recommend to add a lot of different toppings, as it makes the pizza a lot tastier and aslo healthier!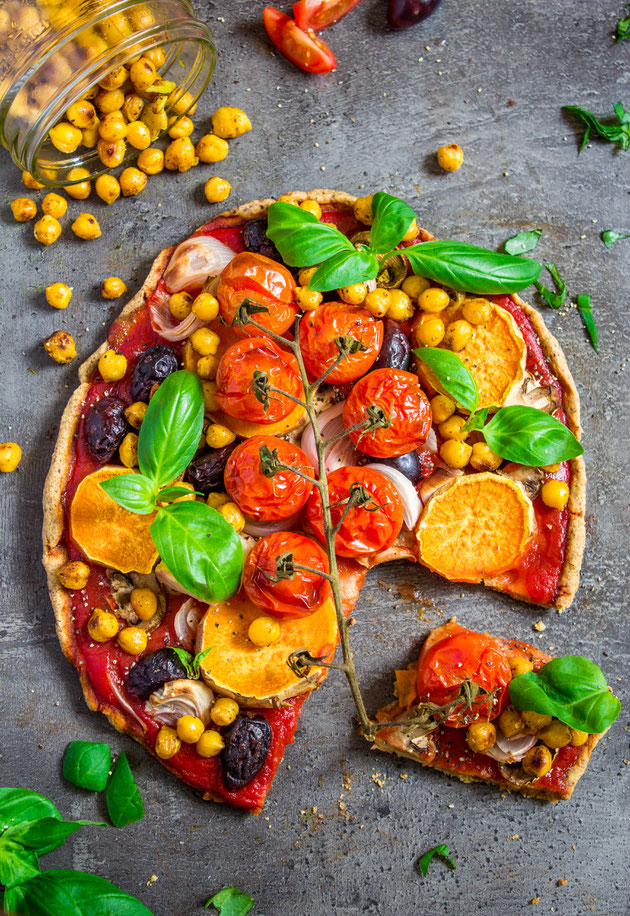 Fresh comfort pizza with veggies and a homemade cream cheese
The crust is made of oat flour (simply blend rolled oats until you have a fine flour), psyllium husk, flaxseeds and water. The crust is quite light and crispy. I am very happy with the outcome, because often gluten free pizza turns out heavy, but this one was great!
You can add the toppings you like, and the homemade cream cheese is very delicate with this pizza! 
Recipe
Ingredients:
1 cup oat flour (blend rolled oats until you have a fine flour, pretty simple!)
1 tbsp psyllium husk
1 tbsp flaxseeds (optional: blend them until you have a fine powder)
2 tbsp olive oil
water (add little by little, about 1/4 cup)
1/2 tsp sea salt
Cream Cheese
1 cup white beans
1/2 cup aquafaba (the liquid that is left after cooking your legumes, I simply cook my white beans (for about 1 hour) after soaking them overnight, than save some of the liquid to use for dips, hummus or baking.)
fresh juice from 1/2 lemon
1 garlic
1 tbsp virgin coldpressed olive oil
sea salt, pepper, curry (for the colour) to taste
Toppings:
1/2 cup tomato sauce
eggplant
tomatoes
onion and garlic
etc.
Toppings to add when the pizza is baked:
arugula or/and basil
avocado
Method:
Blend together the ingredients for the cream cheese until smooth, and set aside.
Blend or mix the dry ingredients for the pizza crust well, than add the water, little by little until it sticks together and you can knead the dough.
Knead with your hands (let your kids help you! They will love it!) for some minutes.
Press out the dough on parchment paper, and make a nice evenly pizza crust.
Preheat the oven to 200 degree celsius.
Spread out the tomato sauce and toppings on the crust.
Bake the pizza for 20-30 minutes.
Top the pizza with fresh herbs, arugula, and one avocado. Add your homemade cream cheese.
Enjoy warm and with good company!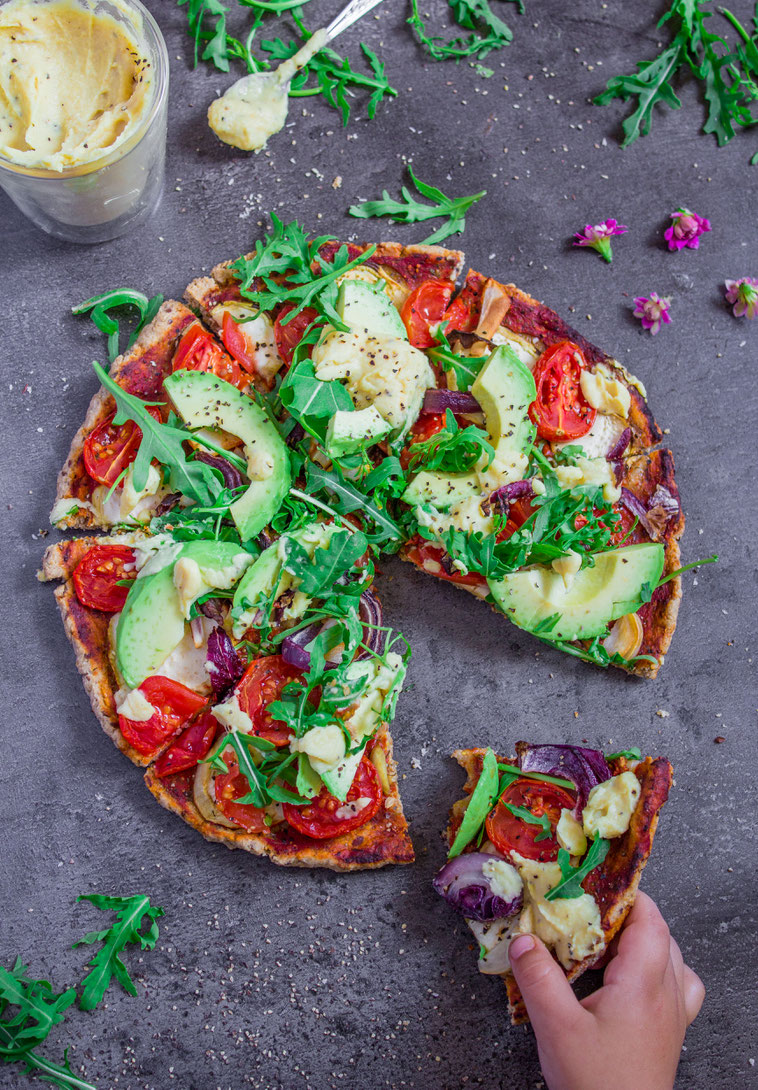 Like it? Leave a comment below!