Glueten free and refined sugar free soft christmas cookies!
If you are looking for some healthy christmas cookies that are without gluten and refined sugar, than this is something for you!
These cookies are very easy to make and with the sweet berry jam the taste is perfect! Enjoy your homemade cookies with some hot chocolate or tea to overcome the cold winter days.
This recipe is inspired by the swedish christmas cookies calles pepparkakor and also the typical german christmas cookies Linzer Augen. I hope you enjoy it as much as I did! (and my family!)
If you use my recipe be sure to tag me so I can find your picture on instagram and facebook!
Ps. This recipes contains a high amount of protein from a secret ingredient;)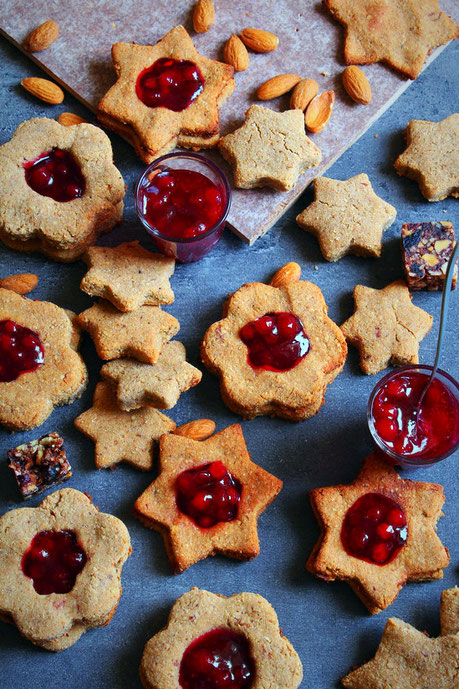 ---
Soft Christmas Cookies
Recipe
Makes enough for 2 full baking sheets
Ingredients:
250 g cooked not canned chickpeas
150 g rolled oats (gluten free)
50 g almonds
2 big banana
2 tbsp aquafaba (not salted)
120 g melted virgin coconut oil
60 g coconut blossom sugar
35 g raisins
2 tsp cinnamon
2 tsp gingerbread spices
1/2 tsp vanilla
1 1/2 tsp baking powder
Jam:
1 cup red berries
2 tbsp coconut blossom sugar
1/2 tbsp lemon juice
Directions:
Soak the raisins in oat milk, water or juice for at least 30 minutes. Rinse and drain. (you can save the soaking water for tea or breakfast!)
Start by blending the rolled oats and the almonds in a blender until you have a fine flour. Mix the oat-almond flour with the baking powder, coconut sugar, coconut flour, vanilla and spices. Set aside.
Blend the bananas with the other wet ingredients, add the chickpeas and soaked raisins and blend until smooth.
Add the dry and wet mixture in a large bowl and knead them toegther until you have well combined dough. It should be a little sticky when you are finish.
Let the dough rest for 30 minutes.
Roll or press out the dough on a parchment sheet and cut out cookies. 
Preheat the over to 200 degree celcius and bake the cookies for 15 minutes.
Let them cool down.
Jam:
Heat the berries, coconut sugar and lemon juice in a small pan and bring the mixture up to a boil, stirring frequently. Smash the berries with a fork. Continue to boil, still stirring frequently, until the fruit is thick, about 10-20 minutes.
Decorate your cookies with the jam.
Enjoy with tea, mulled wine, coffee, or hot chocolate!

Hello and welcome to my blog Vegan Niinja. My name is Niina and I am a vegan from Sweden currently living in Austria (all recipes are also in german). I am the recipe creator, food stylist, writer and photographer for Vegan Niinja. All my recipes are easy to make and made with high quality products, 100% vegan, soy and refined sugar free. Read more...
I loved making those christmas cookies and I hope you also enjoy it! Let me know if you have any questions in the comments below.