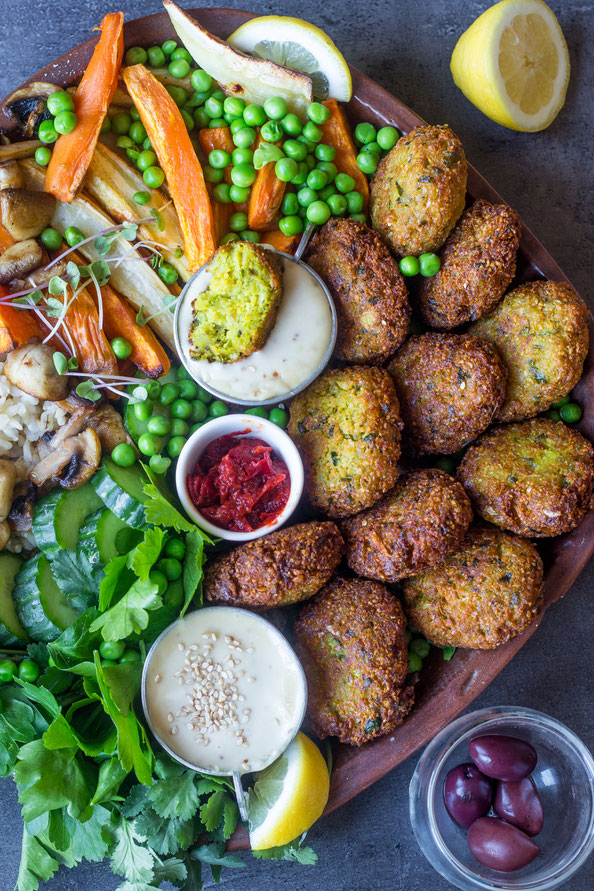 Recipe in English below
Falafel utan mjöl
Det är många som frågar mig efter mitt falafel recept, så jag tänkte att jag delar den här, så att det blir enklare för er att hitta. Det är egentligen min partners recept som han alltid använder när han gör falafel, för det är oftast han som gör dem, inte jag. Men jag har faktiskt aldrig ätit falafel som är godare än hans! (Ok nån gång när jag bodde i Wien åt jag falafel som var lika god, men vi kan bortse från det här). Det bästa är att vi bara behöver några få ingredienser till den här falafel receptet, och sen kan du själv variera med kryddor du har hemma.
De här falafel är mjuka på insidan och krispiga pü utsidan! Helt enkelt perfekta.
Jag brukar använda min vanliga matberedare till att göra falafel smeten, men en köttkvarn funkar också bra, även om det tar lite mer tid.
Falafel är nåt av det godaste som finns, särskilt med hemmagjorde wraps, en tahini dressing och grönsaker. Delar här också ett recept på en god dressing som passar till falafel, med tahini, vatten, lite senap, salt, peppar och citronsaft. 
Det speciella i det här receptet är att vi inte behöver något mjöl! Mjöl gör ofta falafel lite torra och tråkiga, så vi använder iställer potatis! Ja, potatis. Och sen en massor lök och vitlök. Och kryddor. Det är allt. Ok, här kommer receptet!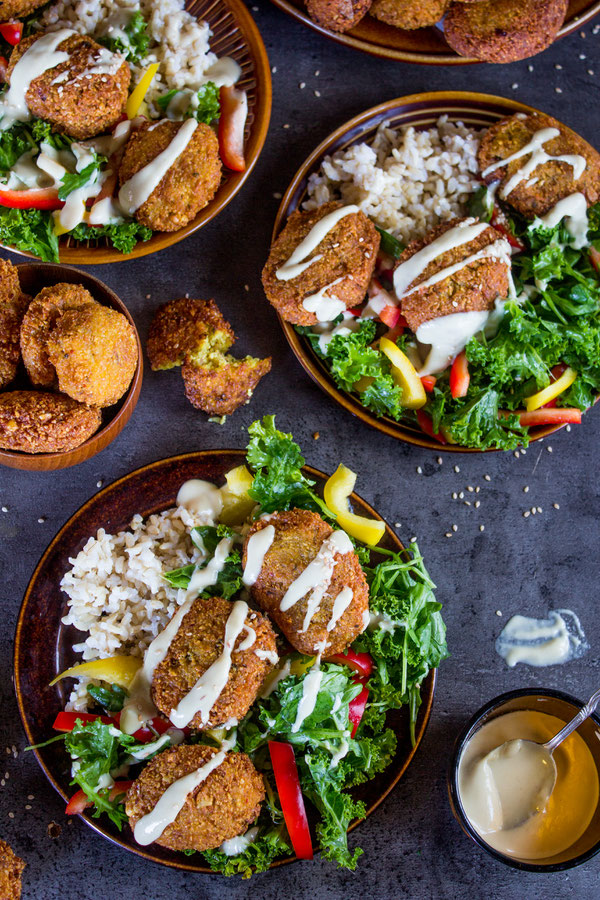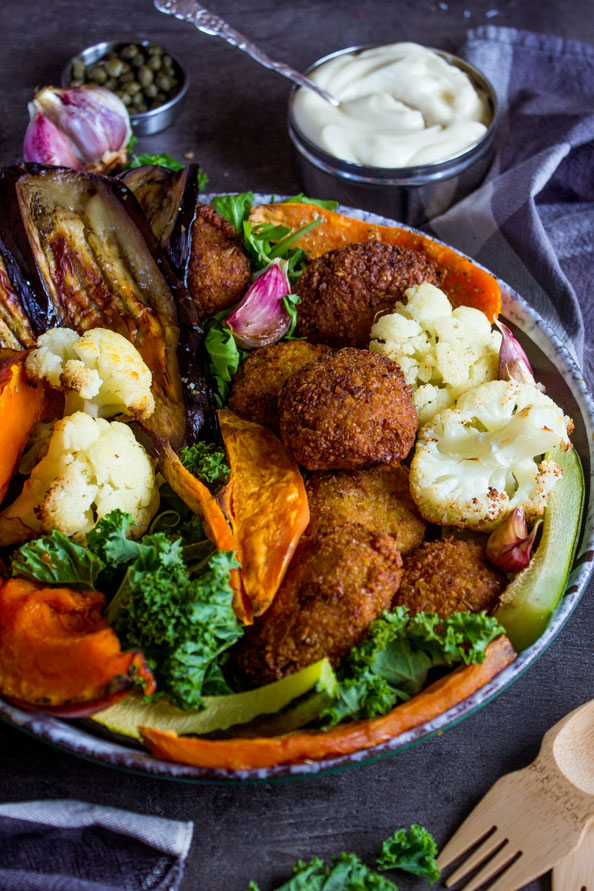 Recept
Receptet ger ca 40 stycken falafel.
Ingredienser:
500 g torkade kikärter (det blir ca 1000 g blötlagda kikärtor. Använd inga kokta kikärtor!)
3 stora råa potatisar (eller cirka 5 små) (400 g)
7 vitlöksklyftor
2 lökar (300 g)
1/2 msk salt
en knippe persilja eller koriander (eller 2 msk torkade)
Valfritt:
1 tsk spiskummin
1 tsk gurkmeja
1 tsk paprika pulver
1 tsk peppar
1 tsk torkad dill
Lite chili om du gillar starkt
Extra:
Vegetabilisk olja att steka i, tex rapsolja eller solrosolja
Så här gör du:
Blötlägg kikärterna över natten eller minst 12 timmar. Täck de torkade kikärterna med tillräckligt med vatten i en stor skål.
Skär potatisen och lök i bitar. Skala vitlök.
Använd om möjligt en köttkvarn och mal kikärter, potatis och lök en eller två gånger tills du har en fin smet. Lägg till vitlöksklyftorna andra gången du maler. Om du använder en matberedare, mixa kikärterna tills de är finfördelade, tillsätt sedan potatisen, vitlök och lök, persilja eller koriander och mixa tills du får en jämn smet. Mixa så länge tills du kan forma falafel med händerna. Smeten ska inte vara för lös, då kommer de falla isär när du friterar falafel.
När din smet är klar lägger du till kryddorna och blandar det väl med en sked eller en gaffel tills allt är blandat.
Värm upp oljan i en kastrull eller stekpanna med höga kanter. Gör ett test med den första falafeln när oljan är varm.
Ta ungefär 1 stor msk smet och pressa smeten till en platt, oval falafel. Stek på båda sidor tills de är bruna. Lägg på en tallrik och låt svalna. Upprepa tills alla falafel är klara. Du kan också spara smeten i kylen om du vill göra mer falafel nästa dag.
Servera falafel med grönsaker, sallad (ruccola är min favorit), med en dressing eller hummus. Hemmagjorda wraps är också ett bra alternativ till. Även gott med quinoa!
---
Tahini dressing
3-4 portioner

Ingredienser:
     6 msk vit tahini
     10 msk vatten
     1 msk agave eller lönnsirap
     3 msk citronsaft
    Valfritt
1 tsk senap eller 2 pressad vitlöksklyfta

Vispa ihop allt i en skål. Tillsätt mer tahini för en tjockare konsistens eller mer vatten för en tunnare dressing. Smaksätt med tex senap eller vitlök, eller bara salt och peppar. (Inget salt och peppar behövs om du smaksätter med senap). Receptet går såklart att dubbla.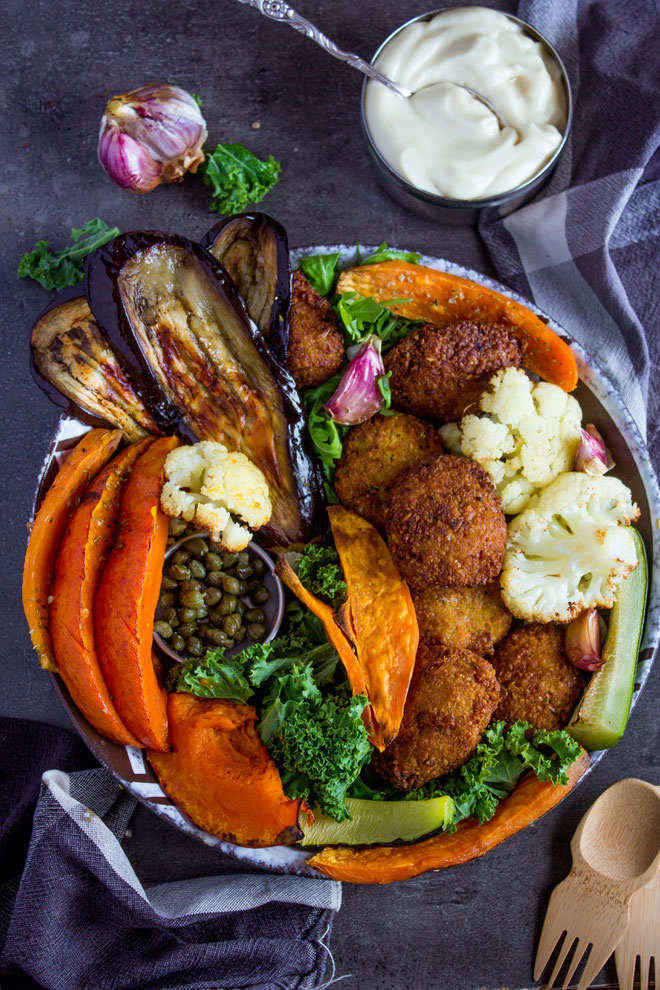 ---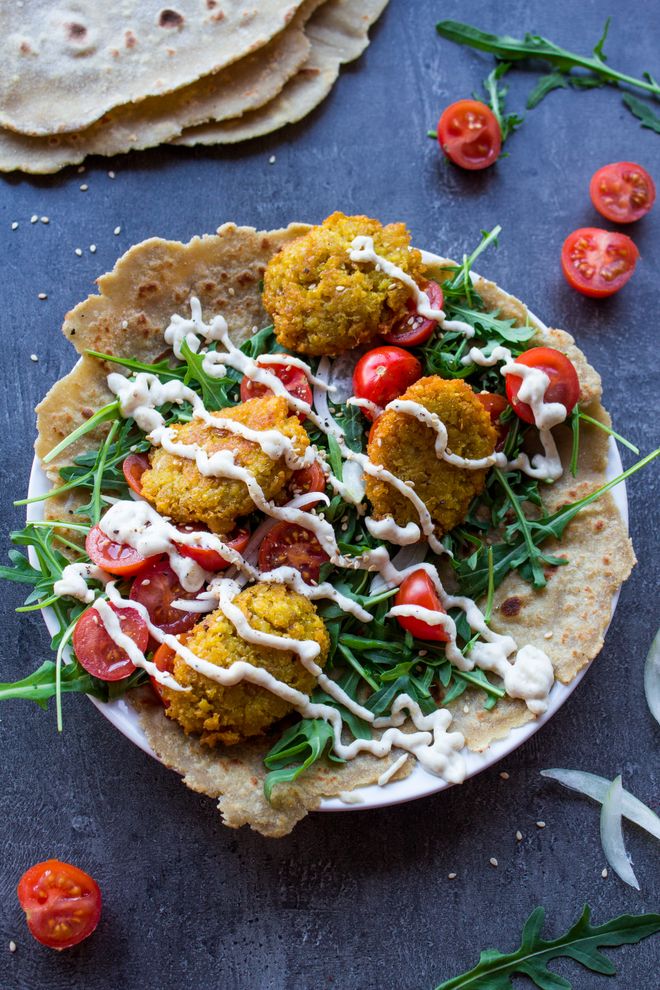 Falafel without flour
English
Many people ask me for my falafel recipe, so I thought I would share this one here, so it will be easier to find. The best part of this recipe is that you only need a few ingredients and that you can vary yourself with spices you have at home.

Falafel is something I really like,  especially with homemade wraps, a tahini dressing and vegetables. I am also sharing an easy and delicious dressing recept here that goes very well with falafel.
These falafel are soft on the inside and cristpy at the outside, exactly how I like them!
You can use a regular food processor or a meat grinder for making the falafel batter. I usually use my food processor to make the batter, it´s quicker and not so time consuming.

The special thing about this recipe is that we do not need any flour! Flour often makes falafel a little dry and boring, so we use uncooked potatoes instead! Yes, potatoes. And then a lot of onions and garlic. And spices. That's all. Okay, here comes the recipe!
Recipe
This recipe makes about 40 falafel
Ingredients:
500 g dry chickpeas
3 big uncooked potatoes (or about 5 small) (400 g)
7 garlic cloves
2 onions (300 g)
1/2 tbsp salt
1 tsp cumin
1 tsp turmeric
1 bunch of parsley or coriander (use 2 tbsp dried herbs if you don´t have fresh ones)
Optional:
1 tsp bell pepper powder
1 tsp pepper
1 tsp dried dill
A bit of chili if you like the falafel spicy
Vegetable oil to fry
How to make the falafel:
Cover the dried chickpeas with enough water in a large bowl. Soak the chickpeas overnight or at least 12 hours.
Chop the uncooked poatoes and onion in pieces. Peel the garlic.
Use a meat grinder if possible, and grind the chickpeas, the potatoes and onion once or twice until you have a nice batter. The second time you grind, add the garlic cloves. If you use a food processor, process the chickpeas until finely divided, then add the poatoes, garlic, fresh herbs and onion and process until you get a nice batter. Blend until you can form falafel with your hands, otherwise the falafel will fall apart when frying them.
When you batter is ready, add the spices and mix well with a spoon or a fork until everything is combined.
Heat the oil in a pan. When the oil is hot, try with the first falafel.
Take about 1 big tbsp of batter and press it with a spoon so you get a nice even falafel. Fry on both sides until slightly golden. Place on a plate and let cool down. R

epeat

until all falafel are ready. You can also save the batter in the fridge if you want to make more falafel the next day.
Serve with vegetables, salad (arugula is my favorite), with a dressing or hummus. Homemade wraps is also a great option. Also very good with quinoa.
---
Tahini dressing
3-4 servings
Ingredients:
6 tbsp white tahini
10 tbsp water
1 tbsp agave or maple syrup
3 tbsp lemon juice
Optional:
1 tsp mustard or 2 pressed garlic cloves
Salt & pepper
Whisk all together in a bowl. Add more tahini for a thicker texture or more water for a thinner dressing. Taste with salt and pepper OR mustard OR garlic. No salt and pepper needed for the mustard-version.
You can of course double this recipe if needed.