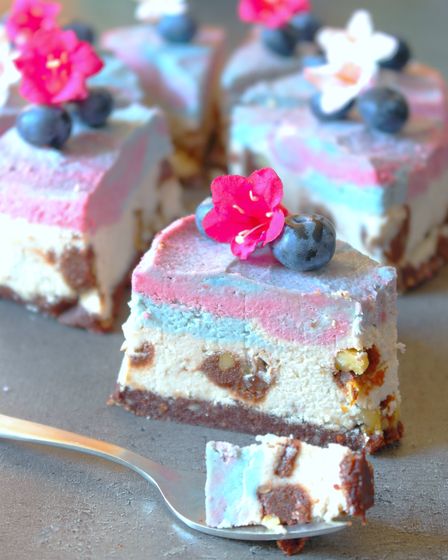 Are you looking for the perfect vegan and raw ´cheesecake´? Than this is for you!
The ´cheesecake´ is  without cashewnuts and even not frozen! Sounds good? It is really fantastic!
And you can make all kind of different variation of this cake, add some fruit or berries to the filling, or replace the hazelnuts with sunflower seeds to make it completely nut-free.
Let me know in the comments what you think about this recipe! I am happy for ALL feedback because it helps me improve my recipes!
Thank you.
Rainbow-Lavender Cheesecake
Recipe
Mold: 18 cm
Base:
1/2 cup hazelnuts
7 dates
1 1/2 tbsp cacao powder
How to: Add all ingredients in a high speed blender and process until everything sticks well together. Press the dough into a lined tin and set aside.
Filling:
1/2 cup virgin coconut oil
1 cup coconut cream or coconut yogurt (80% coconut)
3 tbsp maple syrup
2 tbsp coconut blossom sugar
2 tbsp coconut butter
1/2 cup coconut flour
1 pinch of lavender
1 pinch of vanílla
the zest and flesh of 2 limes or 1 lemon (organic!)or from 1 lemon
2 bananas or 250 g raspberries
Optional: some blue sprulina and raspberry powder or blueberry powder and for extra crunch one rawfood bar.
How to:
Blend all ingredients until smooth, for about 5 minutes.
Put one part of the cream aside.
Pour the other part over the base* and put it in the freezer for some minutes.
Meanwhile take the cream you already saved on the side and part it in two bowls.
Add some blue spirulina in one part and some raspberry or blueberry powder to the other bowl. Add as much as you like for a beautiful colour.
Add the both colours to the cake spoon by spoon to get a nice swirl.*
Put the cheesecake in the freezer for about 30-60 Minutes before slicing the cake into pieces.
Storage in the fridge if you don´t like a frozen cake.
Enjoy with berries and good company!
*Tips: Knock the cake mold a few times against the table to get rid of bubbles in the filling.
Regenbogen-Lavendel ´Käsekuchen´
Rezept
Form: 18 cm
Boden:
1/2 Tasse Haselnüsse
7 Datteln
1 1/2 EL Kakao Pulver (pur ohne Zucker)
Anleitung:
Alle Zutaten für den Boden in den Mixer geben und zu einer krümeligen Masse zerkleinern. Auf den Boden der Form gleichmäßig verteilen und ausdrucken.
Füllung:
1/2 Tasse Kaltgepresstes Kokosöl
1 Tasse Kokos Creme/Milch mit 80% Kokos
3 EL Ahorn Sirup
2 EL Kokosblüten Zucker
2 EL Kokosmus
1/2 Tasse Kokosmehl
eine Prise Vanille und Lavendel
Die geriebene Schale und das Fruchtfleisch von 2 Limes oder 1 Zitrone (achte auch Bio Qualität)
2 Bananen oder 250 g Himbeeren
Optional: Blaues Spirulina Pulver und Himbeeren oder Heidelbeeren Pulver und für das kleine Extra einen Rohkost-Riegel.
Anleitung:
Alle Zutaten in den Mixer mixen bis die Konsistenz sehr geschmeidig ist. 
Ein Hälfte davon zur Seite stellen.
Die andere Hälfte über den Kuchen-Boden gießen und gleichmäßig ausstreichen. Ein paar Mal gegen den Tisch klopfen, damit die Luftbläschen verschwinden.
Ins Gefrierfach für einigen Minuten hineinstellen.
Die restliche Creme in 2 Schalen verteilen.
Ein wenig Spirulina in die eine Schale mit Creme unterrühren, und in die andere ein wenig Himbeeren oder Heidelbeeren Pulver bis eine schöne Farbe entsteht.
Die beide Farben löffelweise über den Kuchen hinzufügen, mit dem Löffel vorsichtig umrühren, damit einen schönen Strudel  entsteht. Ein paar gegen den Tisch klopfen.
Kalt stellen und im Kühlschrank aufbewahren. 
Mit Beeren und guter Gesellschaft genießen!