Hier kommt ein super leckeres Pfannkuchen Rezept, das ganz einfach und schnell zubereitet ist. Viel Spaß und guten Appetit!
Pfannkuchen sind sehr lecker zum Frühstück, zu Kindergeburtstags-Partys oder zum Mittagessen. Diese sind Zuckerfrei und vegan. Ich verwende ausschließlich Bio Produkte ohne Zusätze.
English recipe below!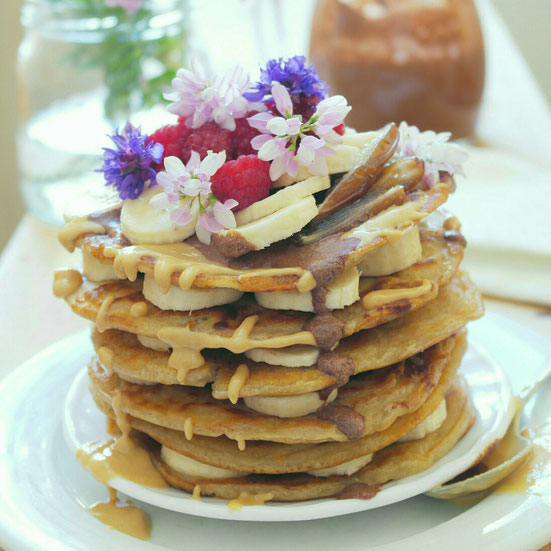 Rezept / Recipe
135 g Dinkelmehl / spelt flour
150 ml Hafermilch / oatmilk
4 EL/tbsp Kokosmilch / coconut milk
1 TL/tsp Apfelessig / apple vinager
1 1/2 TL/tsp Backpulver / baking powder
1/2 TL/tsp Natron / bicarbonate of soda
1 EL/tbsp Kokosöl / coconut oil
Anleitung:
Alle Zutaten gut miteinander mischen, 
Danach den Teig für ca. 15 Minuten ruhen lassen, da das Mehl noch aufquellt. Dann 1-2 große EL Teig in eine auf mittlere Hitze erhitzte (mit 1/2 Tal Kokosöl), beschichtete Pfanne geben. Nach ca. 2 Minuten bilden sich kleine Bläschen, dann den Pfannkuchen einmal wenden und von der anderen Seite schön goldbraun ausbacken. 
Directions:
1 .Wisk all ingredients together until the dough gets smooth and creamy. Add some more oatmilk if you like your pancakes thinner or add more flour if you like them more thick.
2. Let the dough set for at least 15 minutes.
3. Heat up coconut oat in a small pan on a medium heat.
4. Add 1 tbsp of the dough for one pancake.
5. Flip the pancake to the other side when you see small bubbles on the surface.
Schoko Soße / Chocolate cream:
4 EL/tbsp Kakao / cacao
2 EL/tbsp Kokosöl / coconut oil
240 ml/1 c Kokosmilch / coconut milk
3 eingeweichte Datteln / soaked dates
Anleitung:
Alle Zutaten in einem Mixer mixen bis keine Datten-Stückchen mehr sichtbar sind.
Directions: 
Blend until smooth and creamy.
Mit Bananen, Erdnuss Butter, Schoki-Soße, Himbeeren und Datteln toppen.
Genießen!
Enjoy!