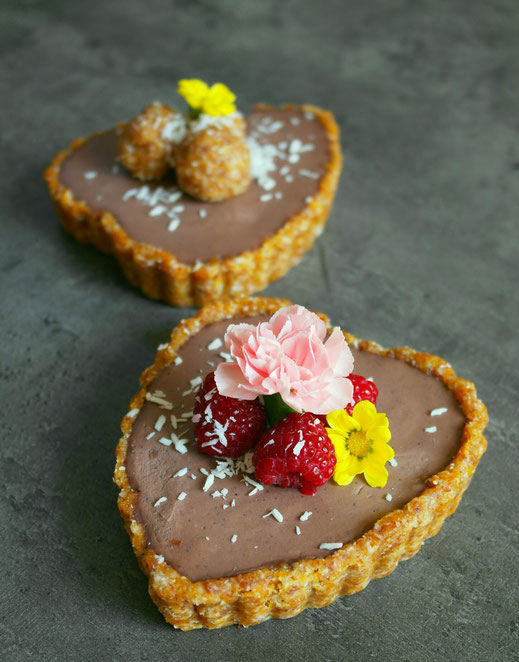 Have you seen those cute little tarts filled with choclotate cream? So sweet and tastes also undescrible delicious. You find me on instagram @vegan.niinja and Facebook @vegan.niinja.
Recipe in in english and german!
Mini Chocolate Tarts
Ingredients:
Crust:
1/2 cup almonds 
1/2 cup apricots 
1/2 cup grated coconut 
1/4 tsp vanilla 
Instructions:
1. First mix the almonds and grated coconut in am blender. After 1 minute add the vanilla and apricots. 
2. Press mixture evenly into the heart shaped shells. (About 2 hearts each 12 cm)
3. Refrigerate until the filling is ready.
Filling:
3/4 cup soaked cashew (for at least 8 hours)
1/4 cup coconut cream (full fat coconut milk)
1/4 cup cacao
about 3-4 tbsp maple syrup or agave (depending how sweet you like it)
3 tbsp virgin coconut oil
1 tsp vanilla
a pinch of salt
Optional: 1 tbsp of crowberry powder from NatureFoods
How to:
1. Mix all ingedients in a high speed blender for about 10 minutes until very smooth. Scraping down the sides when needed.
2. Fill your heart shaped shells with chocolate filling.
3. Refrigerate until set (1-3 hours)
4. Serve with fresh summer berries. Enjoy!
Mini Schokolade Torten
Zutaten:
Boden Schicht:
70 g Mandeln 
70 g Aprikosen 
40 g Kokosraspeln 
1/4 TL gemahlene Vanille 
Anleitung:
1. Zuerst die Mandel und Kokosraspeln in ca. 1 Minute mixen.
2. Danach die Aprikosen und Vanille dazu geben und weiter mixen bis die Mischung anfängt, zusammen zu kleben.
3. In 2 kleine Formen ausdrucken. Ca 12 cm Groß.
4. Im Kühlschrank lassen bis die Füllung fertig ist.
Füllung:
117 g eingeweichte Cashewnüsse (Mind. 8 Stunden)
80 g Kokoscreme  (die feste Masse von der Dose)
25 g Kokosöl (Bio & Virgin)
30 g Agavendicksaft oder Ahornsirup 
25 g Kakao Pulver 
1 TL gemahlene Vanille 
1 Prise Salz 
Optional: 1 EL Krähenbeeren Pulver von NatureFoods 
Anleitung:
1. Alle Zutaten in einem Mixer geben und für ca. 10 Minuten pürieren lassen bis die Konsistenz ganz fein und cremig ist.
2. Die Füllung in die Formen geben und ein paar Mal gegen den Tisch klopfen, damit die Luftbläschen sich auflösen, und zurück im Kühlschrank stellen.
3. 1-3 Stunden warten bis die Füllung fest geworden ist.
4. Mit frischen Beeren genießen!