So, mango and chocolate, how does it sounds? Good? I am happy if you like the combination, because here is the PERFECT RAW-VEGAN CHEESECAKE recipe for you to try out! You´ll have to find a way to keep yourself away from the fridge, because these pieces are just HEAVEN!
100% vegan
100% raw
100% nut free when needed
100% gluten free
100% refined sugar free
Recipe in english and german!
---
Mango-Chocolate ´Cheesecake´
Recipe
Mold: 18 cm
Base:
30 g unsalted organic peanuts or hazelnuts (or if you want to make the cheesecake completely nut-free, use sunflower seeds.)
50 g dates (pitted and chopped)
10 g sunflower seeds
10 g poppy seeds
How to: 
Add all ingredients in a high speed blender and process until everything sticks well together. Press the dough into a lined tin and set aside.
Filling:
1/2 cup (120 ml) virgin coconut oil
1 cup (240 ml) coconut cream (80% coconut)
3 tbsp coconut blossom syrup
2 tbsp coconut blossom sugar or maple/agave syrup
2 tbsp coconut butter
1/2 cup (60 g) coconut flour
2 ripe, juicy sweet mango
Chocolate Layer:
100 g dark vegan chocolate (raw when possible)
How to:
Melt the chocolate in a water bath. (A big bowl over hot or boiled water)
Blend all ingredients (not the chocolate) until smooth, for about 5 minutes.
Put the cream in 2 bowls. 
Add the melted chocolate to one of the bowls and stir with a spatula until well combined.
Add some tbsp of the mango cream over the base* and put it in the freezer for some minutes.
than add some of the chocolate cream over the mango layer and put back in the freezer for some minutes. Repeate until all layers are added to the cake.
Put the cheesecake in the freezer for about 30-60 Minutes before slicing the cake into pieces.
Storage in the fridge if you don´t like a frozen cake.
Enjoy with delicious toppings like berries and mango, and good company!
*Tips: Knock the cake mold a few times against the table to get rid of bubbles in the filling.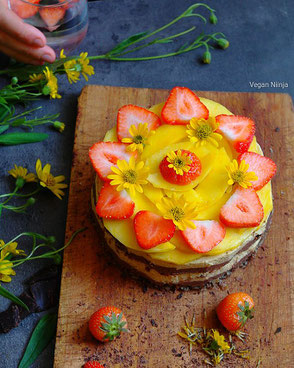 Mango-Schoko ´Käsekuchen´
Rezept
Form: 18 cm
Boden:
30 g Erdnüsse ohne Salz oder Haselnüsse (wenn du den Kuchen ganz ohne Nüsse machen möchtest, einfach Sonnenblumen Kerne verwenden.)
50 g Datteln (ohne Kern)
10 g Sonnenblumen Kerne
10 g Mohn
Anleitung:
Alle Zutaten für den Boden in den Mixer geben und zu einer krümeligen Masse zerkleinern. Auf den Boden der Form gleichmäßig verteilen und ausdrucken. Zur Seite stellen.
Füllung:
1/2 Tasse (120 ml) Kaltgepresstes Kokosöl
1 Tasse (240 ml) Kokos Creme/Milch mit 80% Kokos
3 EL Kokosblüten Sirup
2 EL Kokosblüten Zucker oder Agave/Ahorn Sirup
1/2 Tasse (60 g) Kokosmehl
2 EL Kokosmus
Die geriebene Schale und Saft von 1 Zitrone (achte auf Bio Qualität)
2  reife, saftige Mangoes
Schoko-Schicht:
100 g Vegane, Rohkost Schokolade
Anleitung:
Die Schokolade in einem Wasserbad schmelzen lassen (Dafür einfach die Schokolade in kleinere Stücke brechen und  in einen Schüssel geben. Dann einen größeren Topf mit wenig heißem Wasser füllen und stellen oder hängen den kleineren Topf hinein bzw. darüber und lassen das Wasser aufkochen.)
Alle Zutaten (außer Schokolade) in einem Mixer mixen bis die Konsistenz sehr geschmeidig ist. (ca. 5 Minuten).
Die Creme in 2 Schüssel verteilen.
Die geschmolzene Schokolade in einem Schüssel unterrühren bis die Schokolade gut einarbeitet ist.
Ein paar Esslöffel über den Kuchenboden ausstreichen. Ein paar Mal gegen den Tisch klopfen, damit die Luftbläschen verschwinden.
Ins Gefrierfach für einigen Minuten hineinstellen.
Dann ein paar Esslöffel von der Schoko-Creme über die Mango-Schicht ausstreichen. Ein paar Mal gegen den Tisch klopfen. Wieder für ein paar Minuten ins Gefrierfach hineinstellen. Wiederholen bis alla Schichten geschichtet sind.
Für 30-60 Minuten im Gefrierfach lassen.
Im Kühlschrank aufbewahren. 
Mit Beeren, mehr Mango und guter Gesellschaft genießen!

Hello and welcome to my blog Vegan Niinja. My name is Niina and I am a vegan from Sweden currently living in Austria (all recipes are also in german). I am the recipe creator, food stylist, writer and photographer for Vegan Niinja. All my recipes are easy to make and made with high quality products, 100% vegan, soy and refined sugar free. Read more...
Leave a comment below! I am happy to get your feedback!