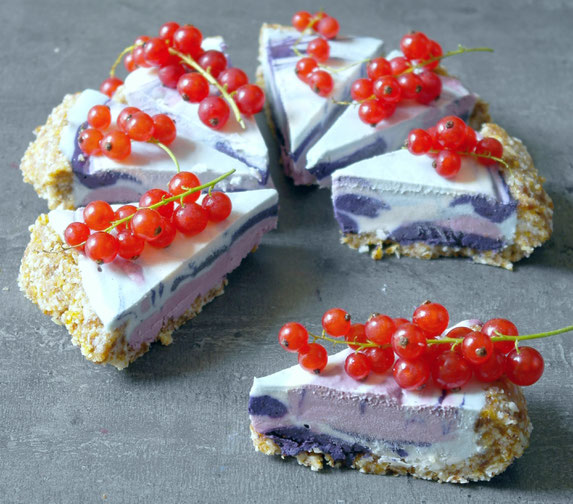 Do you dream about the perfect unicorn cake? Here it is for you: my colourful cheezecake with a sweet tasty apricots crust.
Recipe in english and german.
Unicorn Cheesecake
Recipe
one small cake 18 cm
Ingredients

Crust:
40 g shredded coconut
70 g apricots or dates
70 g almonds
Filling:
1 cup cashew (soaked for at least 8 hours)
200 g coconut cream
60 g agave syrup
50 g native coconut oil
Optional: 1 tsp Vanille or lemon zest from 1 lemon
2 tsp Spirulina Blue
2 tsp Raspberry powder
2 tsp Blueberry powder
Directions:
For the crust place all ingredients in a high speed blender and process until it forms into a ball
Press the mixture into a small mold and store in the freezer
The filling: Blend all the ingredients for about 5-10 minutes until very smooth.
Pour the filling in 4 bowls and add the berry and spirulina powder 
Let it set for about 5 minutes and mix it again with a spoon
Add the filling over the crust in layers and store back in the freezer for about 3 hours or until its time to serve.
When ready to slice, let it rest for some minutes befor slicing it or heat the blade under hot water to make the slicing easier.
Enjoy your cheesecake!!!
Magischer Käsekuchen
Rezept
für einen kleinen Kuchen 18 cm
Zutaten
Boden Schicht:
40 g Kokosraspeln
70 g Mandeln
70 g Aprikosen und/oder Datteln
Füllung:
1 Tasse Cashewnüsse (für mind. 8 Stunden einweichen)
200 g Kokoscreme
60 g Agavendicksaft oder Ahornsirup
50 g Natives Kokosöl
Optional: Vanille (1 TL) oder Zirtronenschale von 1 Zitrone
2 TL Einhornzauber mit Spirulina Blau
2 TL Himbeerpulver
2 TL Heidelbeerpulver
Anleitung:
Für den Boden alle Zutaten in einem Mixer zerkleinern bis eine klebrige, krümeligen Masse entsteht.
Die Masse auf der Boden einer kleinen Form ausdrucken und anschließend ins Gefrierfach stellen.
Alle Zutaten für die Füllung in den Mixer geben und mindestens 5-10 Minuten pürieren bis eine cremige und geschmeidige Konsistenz  entstanden ist.
Die Füllung in 4 Schüssel gießen und die Beeren und Spirulina Pulver hinzufügen und hineinrühren.
5 Minuten ruhen lassen und anschließend nochmals mit einem Löffel die Füllung rühren.
Löffelweise die Füllung auf dem Boden von dem Kuchen geben.
Mindestens 3 Stunden oder bis zum servieren im Gefrierfach stehen lassen.
Das Messer unter heißem Wasser erhitzen vor dem schneiden, dann geht es einfacher. Oder der Kuchen einfach ein paar Minuten stehen lassen vor dem servieren.
Den Cheesecake genießen!!!