Healthy sport bars simple to make and very delicious!
I´ve teamed up with Jimmy Joy to create some tasty and easy snacks! Here is the first one. This snack is perfect for everybody who needs something filled with proteins and healthy minerals before or after a work out. It contains no added sugar and only natural ingredients. It will give you a lot of enery and proteins. 
100% VEGAN
If you give it a try, let me know if you like it; I appriciate all feedback! Be sure to tag @vegan.niinja!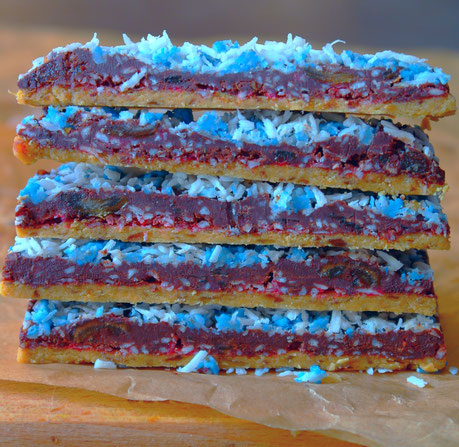 Healthy Sport Bars
Recipe
Makes 5-6 bars
Ingredients:
Base:
1 tbsp Plenny Shake
1 tbsp peanut butter
2 tsp virgin coconut oil
3 dates
Method:
Blend the base-ingredients in a blender until well combined. Spread the base over a baking sheet and press it out. 
Coconut-Raspberry layer:
1 tbsp scredded coconut
1/2 tsp maple syrup or coconut oil.
1 tsp raspberry powder or 1 handfull raspberries
Method:
Mix together the ingredients until well combined. Spead it over the base. Put the dish into the freezer while preparing the chocolate layer.
Chocolate layer:
4 dates
4 tbsp coconut oil
3 tbsp cacao powder
1 pinch vanilla
Method:
Add all ingredients, except for 1 date, in a blender and blend until smooth. Chop 1 date in small pieces and add to the chocolate cream. Spread it over the coconut-raspberry layer.
Top with your favourite toppings! (Nuts, berries, scredded coconut, popped quinoa!)
I topped my bars with some blue coconut made with blue spirulina:)
Put the dish into the fridge or freezer for about 10 minutes.  
Cut into 5-6 bars and enjoy!
Storage cold.
Gesunde Sport Riegel
Zutaten:
Boden Schicht:
1 EL Plenny Shake
1 EL Erdnuss Butter
2 TL kalltgepresstes Kokosöl
3 Datteln
Anleitung:
Alle Zutaten in einem Mixer geben und pürieren. Die Masse auf ein Back-Papier geben und ausdrucken.
Kokos-Himbeeren Schicht:
1 EL Kokosraspeln
1/2 TL Ahorn Sirup oder Kokosöl
1 TL Himbeeren Pulver oder 1 Handvoll Himbeeren
Anleitung:
Alle Zutaten gut verrühren und auf dem Boden Schicht auspressen.
Ins Gefrierfach hineinstellen.
Schoko-Creme:
4 Datteln
4 EL Kokosöl
3 EL Kakao Pulver
Eine Prise Vanille
Anleitung:
3 Datteln, Kokosöl, Kakao und Vanille in einem Mixer fein pürieren. Die eine übrige Dattel grob Hacken und zu der Schoko-Creme hinzufügen.
Die Schoko-Creme über die Kokos-Himbeeren Schicht ausstreichen.
Mit deinen Lieblings-Toppings wie Nüsse, Beeren, gepoppte Quinoa toppen. (Ich habe hier Kokosraspeln mit blaue Spirulina gefärbt.)
Im Gefrierfach für ca. 10 Minuten lassen und anschließend in 5-6 Riegel schneiden.
Genießen!
(kalt lagern!)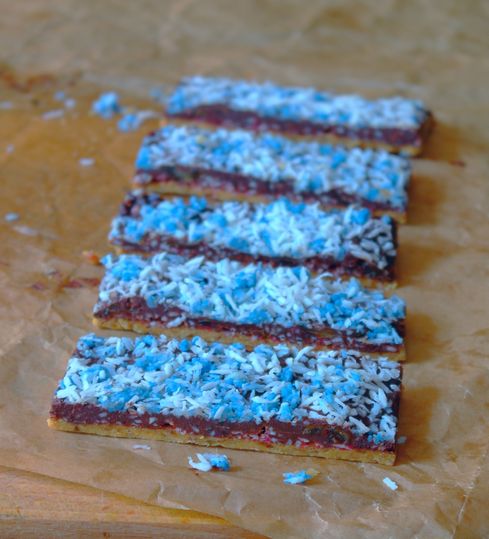 I am happy for all feedback! Please leave a comment below!