If you love pumpkins and if you love pancakes, you will adore these pancakes. These are very easy to make and are super delicious. So I hope you give it a try. 
You can make the pancakes gluten free by using gluten free oats or any gluten free flour. 
---
Sweet Pumpkin Pancakes
Recipe
makes 8-10 pancakes
100 g hokkaido pumpkin puree
100 g spelt flour or rolled oats
1/4 cup oat milk (or any other no dairy milk)
1 pinch of sea salt or Himalaya salt 
1 1/2 tsp baking powder (aluminium free)
Optional: 2 tbsp coconut blossom sugar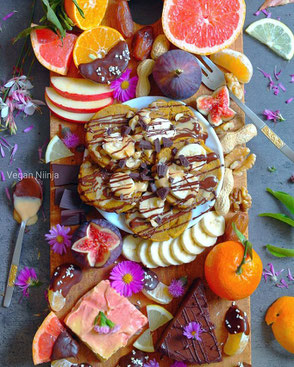 Directions
Simply blend all ingredients in a blender for 1 minute and then let it set for 15 minutes.
Heat a iron or a non stick pan on a LOW heat, add a little coconut oil for the first pancakes and add 1 tbsp/pancake from the batter to the pan.
Flip around when you can see bubbles on the surface and they start to get 'dry' on the uncooked side. Cook on the other side for 1-2 minutes.
Serve with chocolate, peanut butter, fruits, berries or whatever you prefer.
Enjoy!

Hello and welcome to my blog Vegan Niinja. My name is Niina and I am a vegan from Sweden currently living in Austria (all recipes are also in german). I am the recipe creator, food stylist, writer and photographer for Vegan Niinja. All my recipes are easy to make and made with high quality products, 100% vegan, soy and refined sugar free. Read more...
If you try out my pancake recipe, let me know if you liked it in the comments below! I love to get your feedback to improve my work.