All I need in the morning is a cup of my own homemade hot chocolate! Such a delicious and healthy hot drink that your kids will love! This recipe is very simple and truly addictive!
Healthy guilt-free hot chocolate
When I was still a vegetarian I loved hot chocolate more than everything. I used to drink it almost every day at home or in cafés. And each time I went vegan for a period of time, I missed that chocolate drink so much. 
For about one year ago, I finally came up with this amazing delicous recipe. Thanks god for tha,t because this hot drink really save my winter days! I drink it now every day to start the day right.
Many people have already tried out my hot chocolate recipe and love it even more than the dairy one with white sugar. I have got so much positive feedback on this recipe that I now feel I have to share it here on my blog too. So enjoy your cup of hot chocolate guys! You deserve it!
100% sugar free
100% vegan
100% healthy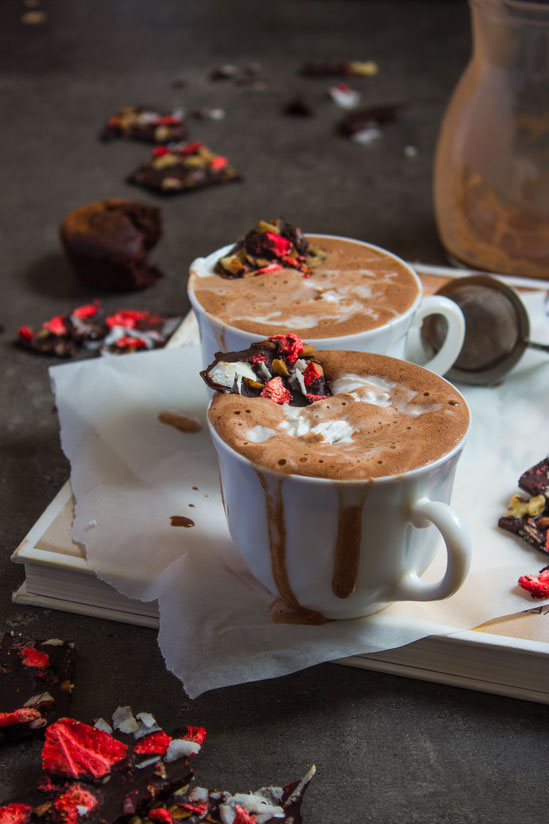 Note: I drink this vegan and sugar free hot chocolate drink every single day, I just can´t get enough!
Ingredients:
2-3 small dates or 1 medjoon date
1-1 1/2 cup plantbased milk (I always use oat milk)
1 tbsp virgin coconut oil
1 1/2 tbsp raw cacao powder
Vanilla
Soak the dates some hours or overnight.
Blend all the ingredients except the vanilla in a blender for 2-3 minutes until no pieces from the dates are visible. The smoother the better.
Heat the chocolate in a small pan. Wait until the first bubble shows up and than pour into 1 or 2 cups. 
Top with vanilla and enjoy!