Homemade nutella that you will end up making at least once a week! If you are on a health care mission, this is something for you. And especially if you have kids, and you want to keep them away from sugar, diary and preservative, than this is the right chocolate spread for you to give them, because this recipe has no refined sugar, no dairy and is simple to make at home. 
This recipe has only 4 ingredients and takes only a few minutes to prepare!
Note: You will need a strong blender or food processor to handle the nuts.
Sweet Nutella Burger with baked banana and fresh berries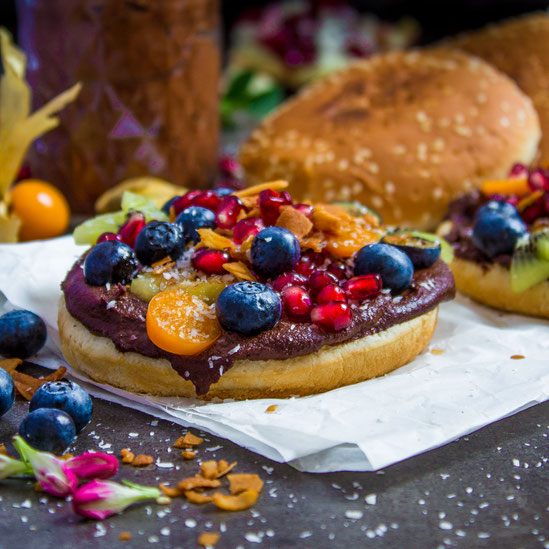 I have been looking for a healthy nutella spread since I stopped with refined sugar, but not really found one that I liked. So I finally came up with my own, and I couldnt be happier with the result. It is so simple to make and now this is a must in my home. I just love it, and it is totally guilt free to eat, because it contains only healthy ingredients!
This is my simple idea how to make a delicious nutella burger. I added some baked banana slices and fresh organic berries, plus some sweet coconut chips. This was such a delicious combination! I share the complete recipe and toppings suggestions below. So be sure to scroll down so you wont miss it!
Recipe
Ingredients:
Toppings:
·         1 ripe banana
·         Fresh berries of choice
Nutella spread:
·         200 g hazelnuts
·         5 tbsp maple syrup
·         ½ cup plantbased milk
·         3 tbsp cacao powder (unsweetened)
·         Optional: pinch sea salt and vanilla from one vanilla bean
Method:
1.       Spread the hazelnuts on a parchment paper, and bake for 10 minutes at 200 degree Celsius.
2.       Let the hazelnuts cool down before rubbing off the loose skin.
3.       Blend the hazelnuts in a blender or food processor until you have a fine flour. Add the other ingredients for the Nutella spread, and blend for some minutes until the texture is very smooth. The longer you blend, the better and smoother!
4.       Pour or spoon the Nutella in a jar.
5.       Slice the banana and fry in a pan on both sides until golden with some coconut oil.
6.       Toast the burger until crispy and golden.
7.       Add some of the Nutella spread, garnish with fried banana slices and berries of choice.
8.       Enjoy!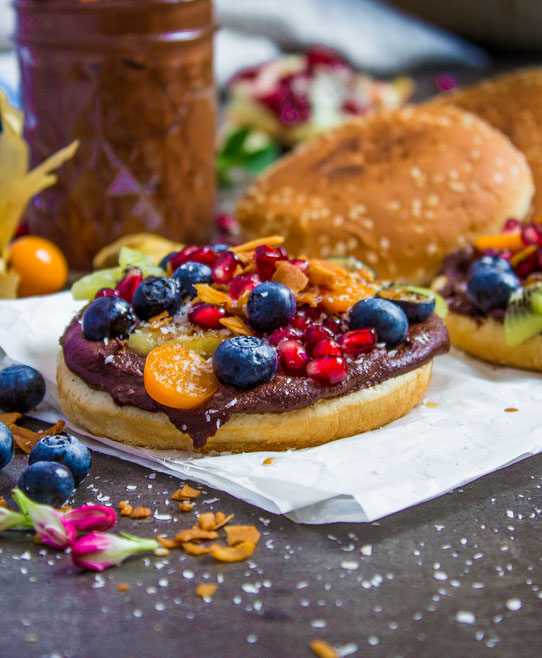 If you like my recipe, be sure to leave a comment below! I am also happy about all kind of feedback!