Dreamy Chocolate Cupcakes, a must if you are crazy for chocolate like me! Those sweet vegan treats makes every chocolate lover happy, and they can be enjoyed without any feeling of guilt. Because these cupcakes are absolutely divine and healthy. 100% gluten free and Vegan. And of course they are without any refined sugar, which is great if you try to avoid white sugar and processed food.
This recipe is perfect for any chocolate lover, for a special evening treat, tea snack or party highlight! You decide how and when to serve and devour them! I personally prefer to enjoy one when my little one is asleep and I have some me-time.
VEGAN Chocolate Bomb!
Those Chocolate cupcakes are:
VEGAN
GLUTEN FREE
REFINED SUGAR FREE
SUPER HEALTHY RAW TREATS (except for the granola, but you can use nuts instead to make it 100% raw)
made with great love
healthy treat for parties
suitable for children (not under 1 year please!)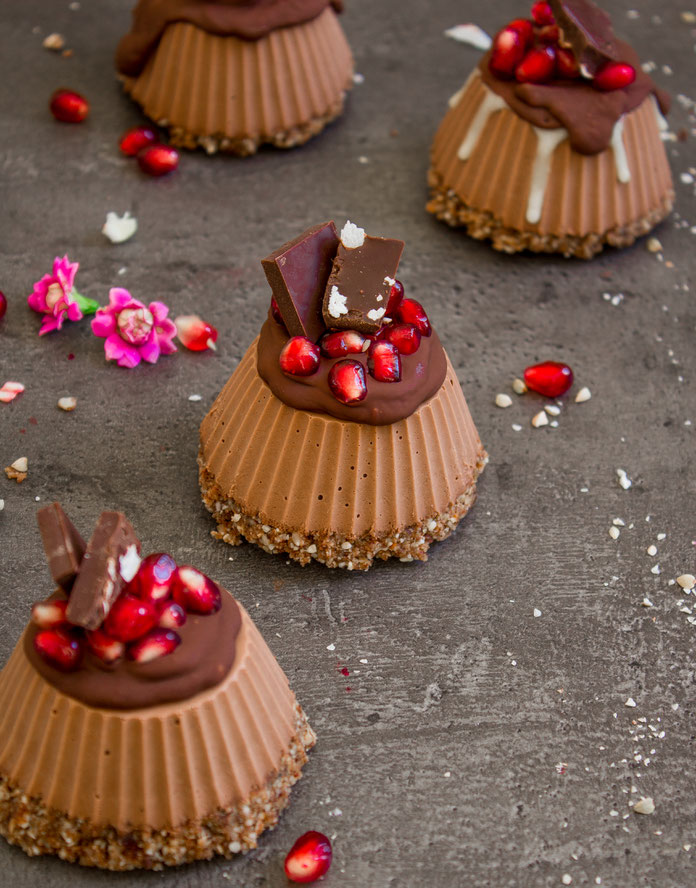 Some times we all need something special, something sweet, and for those kind of days, this is the best vegan treat!
I hope you want to try my recipe, and if you do, be sure to tag me on instagram or facebook! 
Now it´s time to share the recipe with you guys, check it out, it is definitely worth a try!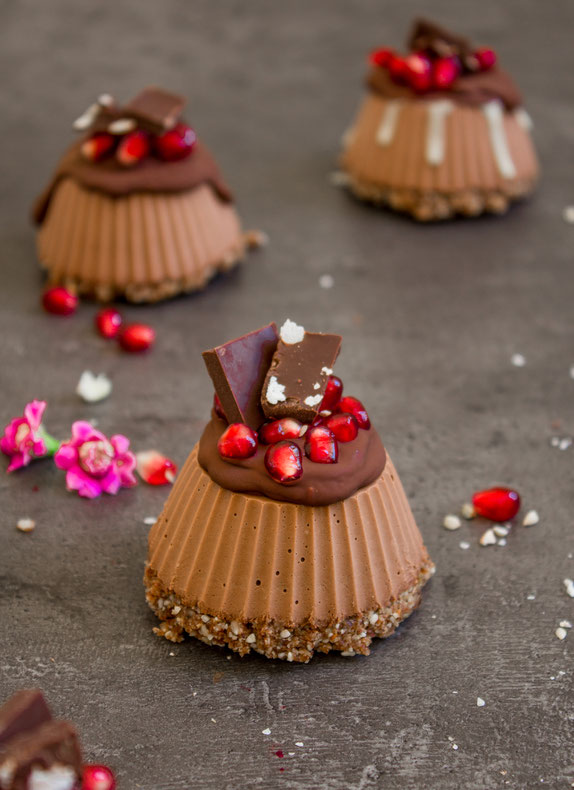 Recipe
Chocolate-Dream Cupcakes with a crunchy crust
Makes about 9 cupcakes.
Ingredients:
Chocolate Filling
3/4 cup cashew nuts (soak them overnight, rinse and drain well!)
4 tbsp virgin coconut oil
6 tbsp coconut blossom nectar
1/2 cup oat milk or any other plantbased milk
3 tbsp (raw) cacao powder (unsweetened)
10 g cacao butter
pinch vanilla
Crust
100 g homemade cinnamon granola or nuts of choice (if you use nuts, also add 1 tsp cinnamon)
60 g dates (pitted and chopped)
40 raw buckwheat hearts
Decoration:
Fresh fruits, berries and vegan chocolate of choice
Method:
Start with the filling: melt the cacao butter in a water bath. While you let the cacao butter melt, blend the other ingredients for the chocolate filling in a high-speed blender or a food processor until the ingredients are well combined and you have a very smooth chocolate cream. Add the melted cacao butter and blend some more.
When the chocolate filling is super smooth and creamy, pour the cream into silicon molds. Makes about 9 of them.
Dont fill the molds to the edge, you should leave space for the crust later on.
(Of course, your kids will need to test the batter before they are going into the freezer!)
Hit the molds a few times against the table to get rid of air bubbles. Be careful while you are doing this!
Pop the molds into the freezer for 3 hours or more. Be sure the chocolate filling is frozen when you take them out. * Leave them in the molds!
Time for the crust! Add the 3 ingredients for the crust to the blender and blend until it sticks together well.
It should not be to smooth, because its nice with a crunchiness!
When the chocolate cupcakes are frozen, you can press down some of the crust on each cupcake. Press down thoughtfully and evenly.
Freeze again until set.
Take out the chocolate cupcakes out of the molds, decorate them how you wish (melted vegan chocolate and fresh berries), and let them defrost for 10 minutes before serving!
Enjoy!
(Storage in the freezer)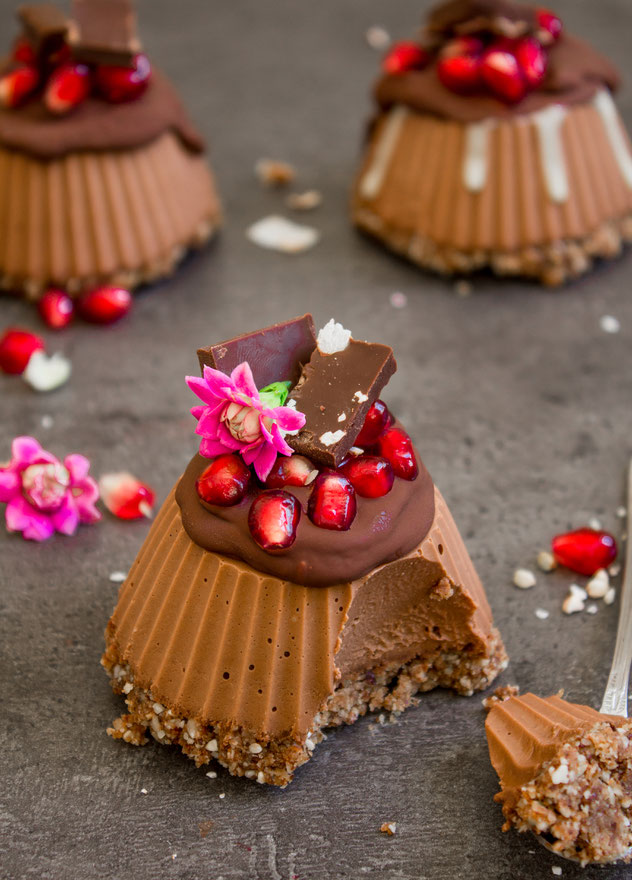 If you want to give me some feedback, you can do that in the comments below or send me an email: niina@vegan-niinja.com