Easy Bounty bars to make at home- with only 4 ingredients!
If you always loved bounties (I did!), and miss eating them since turning vegan, this is the best recipe for you to try out this! Super easy and all you need is a blender or food processor, and a fridge or a freezer.
It is made out of only 4 ingredients and has a sweet taste of summer! I had the idea of making those strawberry-bounty bars and just threw together some delicious ingredients and wolaa, the best kind of bounties were born! I was craving for something sweet yet simple to make, and because I had some chocolate, coconut, dates and frozen strawberries at home, I thought why not try to combine them in a healthy treat? This was the best idea ever!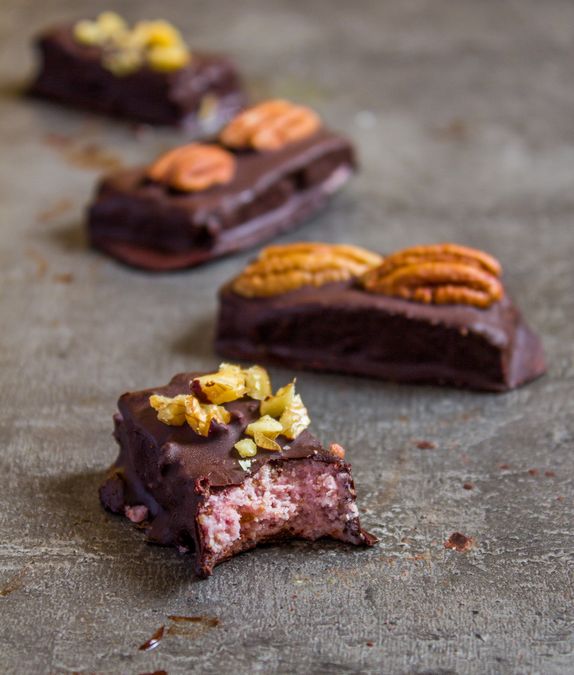 I have shared another bounty recipe before, you can check it out here. This one is slighty different, and totally without oil! The strawberry taste goes very well with the coconut and chocolate. Enjoy!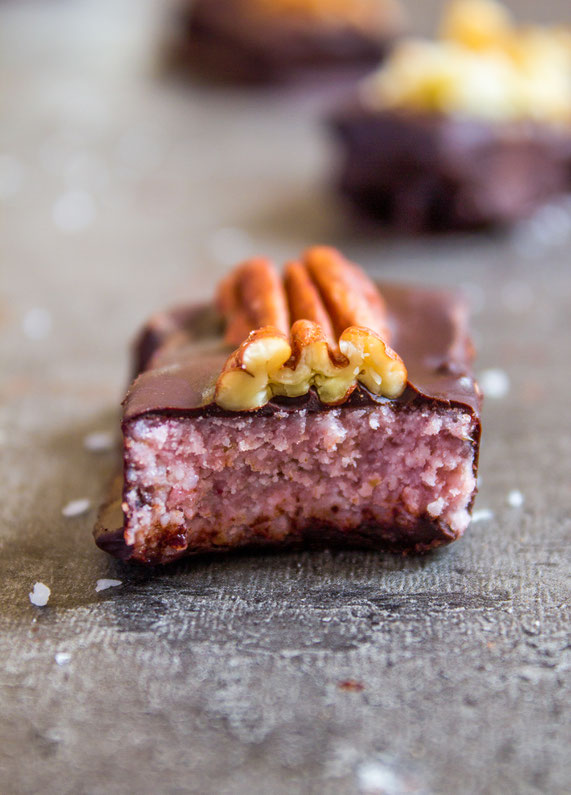 Bounty Bars with Strawberries
RECIPE
Ingredients:
1 cup coconut shred
7 dates (if they are dry, soak them for 10 or 30 minutes before using them for this recipe)
1 big handful (or more) strawberries (I used frozen but use fresh if you have any.)
100 g of your favorite vegan chocolate
Method:
Melt the chocolate in a water bath. Set aside.
Blend the strawberries, coconut shred and dates until you have a fine paste or dough.
Press out the strawberry-date-coconut dough on a parchment paper in a rectangular form. Be sure it sticks together well. Press it well together.
If needed pop the cake in the freezer for some minutes.
Cut into bars.
Dip in the melted chocolate. You can use two forks or spoon to dip them. Be carefully so they don't break.
Decorate as you wish, with nuts of choice or some coconut shred or chips.
Pop in the freezer for some minutes until the chocolate is set.
Enjoy!
Storage in the fridge or freezer. (If you store in the freezer, be sure to defrost them for 5 or 10 minutes before eating.)
Let me know if you have any questions! If you try out my recipes, give me your feedback! Thats how I can improve them!