Delicious vegan Crêpes easy to make.
You only need 3 ingdredients for these wonderful and tasty crêpes: aquafaba, flour and some no-dairy milk! Easy peasy and takes only a few minutes to prepare!
100% oil free
100% vegan
100% easy
100% delicious
These crêpes are very healthy and filled with protein. You can serve them with berries, fruit or veggies. 
Recipe in english and german.
Bon appetit!
---
3 ingredient Crêpes
Recipe
Makes about 5 medium crêpes
Ingredients:
1 1/2 cup (225 g) flour (spelt flour, oat flour or any gluten free flour)
1 cup (240 ml) aquafaba (the liquid of canned or boiled chickpeas) + more (about 1/2 cup when needed depending on which flour you use.) 
1 cup (240 ml) oatmilk or any other no-dairy milk 
Optional: 2 tbsp cacao, 2 tbsp coconut flour or 2 tsp cinnamon, cardamom, sweetener, herbs, or what ever you desire!
Directions:
Whisk or blend all the ingredients together for about 1 minute. (if you want to use oat flour, blend 2 cups (225g) rolled oats in the blender until you have a fine oat flour, than add the liquid and blend for an other minute.)
Let the batter set for 5 minutes.
Heat up a pan on a medium heat and for the first crêpe you may add a little coconut oil, for the other ones you don´t need any oil.
Add about 1/4 cup of the batter. (when the pan is hot!)
Cook the crêpes for about 1-2 minutes each side.
Fold your crêpes into pockets and fill with your favourite berries and some chocolate mousse or peanut butter/chocolate. (or add some veggies!)
Bon appetit!
 Tips: you can storage your crêpes in the freezer with parchment paper in between.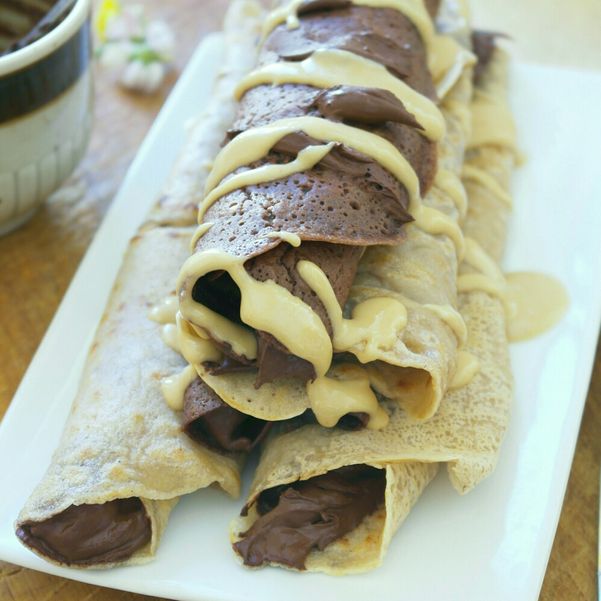 3 Zutaten Crêpes
Rezept
für ca. 5 Crêpes
Zutaten:
225 g Mehl (Dinkel, Hafermehl, oder andere Glutenfreie Mehle)
240 ml Aquafaba (Das dickflüssige Wasser von gekochten Kichererbsen, nur das Wasser, nicht die Kichererbsen!)
240 ml Hafermilch oder andere pflanzen basierte Milch + mehr  (1/2 Tasse) wenn nötig, manche Mehlsorten saugen mehr Flüssigkeit auf als andere.
Optional: 2 TL Zimt, 2 EL Kokosmehl oder 2 EL Kakaopulver für mehr Geschmack. (oder was ganz anderes! Ganz nach Geschmack.)
Anleitung:
Alle Zutaten mixen bis die Konsistenz sehr geschmeidig ist. (Wenn du Hafermehl verwenden möchtest, kannst du 225 g Haferflocken in dem Mixer geben und mixen bis du ein feines Hafermehl hast. Danach die Flüssigkeit dazu geben, und 2 Minuten weiter mixen.)
Teig ca. 5 Minuten ruhen lassen.
Pfanne auf mittlere Temperatur erhitzen, Kokosöl in der beschichteten Pfanne hinzufügen. (nur für das erste Mal notwendig, danach brauchst du kein Öl mehr.)
Ca. 50 ml von dem Teig in die Pfanne geben.
1-2 Minuten auf jeder Seite braten lassen.
Zu Taschen oder Rollen falten, rollen und mit Schokomousse, Erdnuss Butter, Beeren, Früchte, Gemüse oder Schoko Creme servieren.
Einfach Genießen! 
Tipps: du kannst die Crêpes gut aufbewahren durch einfrieren und mit Backpapier zwischen jeden. Danach einfach auftauen lassen oder aufwärmen und beliebig servieren.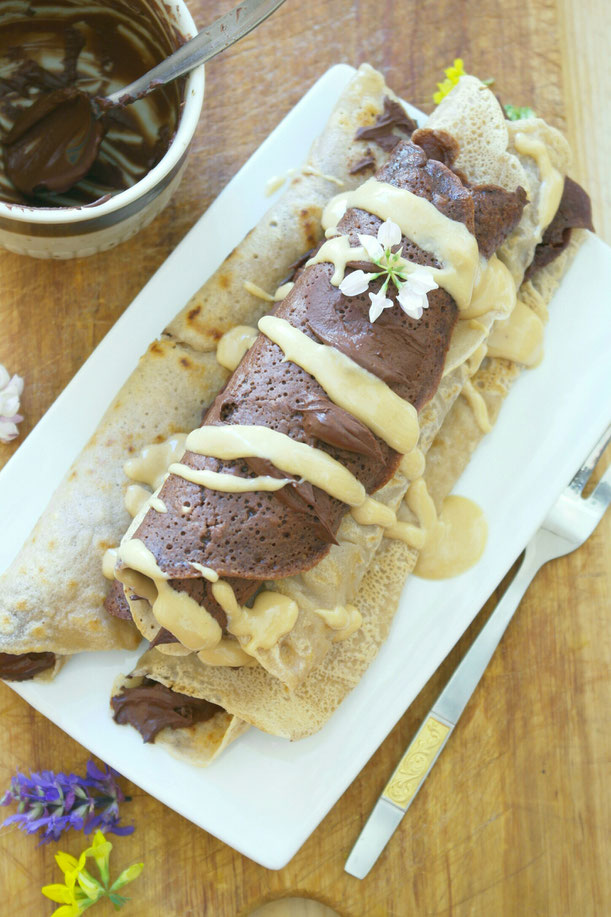 Hello and welcome to my blog Vegan Niinja. My name is Niina and I am a vegan from Sweden currently living in Austria (all recipes are also in german). I am the recipe creator, food stylist, writer and photographer for Vegan Niinja. All my recipes are easy to make and made with high quality products, 100% vegan, soy and refined sugar free. Read more...
Leave a comment below - I love to get feedback!